Helping
Children
Succeed
today and for the future.
Did You Know?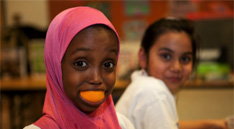 "The best thing about Homework Club for me is learning new things and getting smarter. Because of the Homework Club I've gotten an A- and new friends!"
The Homework Clubs provide an opportunity for children to achieve their greatest potential both socially and academically. We provide free, safe, well-supervised homework support for school age children living in high-need communities. Over 100 children are served annually in these neighbourhood and school-based programs.
About the Program
Macaulay Homework Clubs offer children in high need communities a unique blend of physical activity, academic and social supports. Many of the children are referred by teachers because of an identified need.
Macaulay operates 4 Homework Club locations. Each location operates 3 days per week with approximately 20 children in attendance. The program runs for 3 hours each program day throughout the school year.
Homework Clubs offer:

Life skills to enable students to make healthy lifestyle choices and develop increase confidence and social skills
Daily vigorous physical activity
Individual and small group assistance to complete homework and learn academic skills.
Nutritious snack and opportunity to learn about health and nutrition.
Safe after-school environments
Youth mentors, from the local neighbourhood, serve as role models for younger Club participants.
Special opportunities for parents to provide information on school expectations and increase awareness of the important role parents play in student success.
Locations
Macaulay operates the following Homework Clubs:
Brookhaven Homework Club
Where:
Brookhaven Public School
70 Brookhaven Dr.
When:
Mondays, Tuesdays, Wednesdays
3:00 p.m. – 6:00 p.m.
Humberwood Homework Club
Where:
Humberwood Community Centre
850 Humberwood Blvd.
When:
Mondays, Tuesdays, Wednesdays
2:45 p.m. – 5:45 p.m.
Keelsdale Homework Club
Where:
Keelsdale Junior Public School
200 Bicknell Ave.
When:
Tuesdays, Wednesdays, Thursdays
3:00 p.m. – 6:00 p.m.
Portage Trail Homework Club
Where:
Portage Trail Community Junior School
100 Sidney Belsey Cres.
When:
Mondays, Tuesdays, Wednesdays
3:00 p.m. – 6:00 p.m.
For more information about our Homework Clubs, please contact: (416) 789-7441 x 246 or 225
or info@macaulaycentre.org